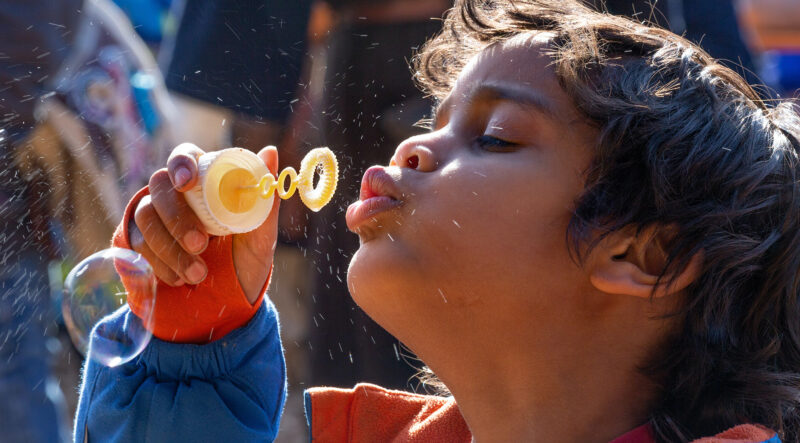 Evening Care
Evening Care was established to support parents who are attending evening college credit classes at Austin Community College. Evening Care, like the day program, also serves as a lab placement site for observers in the ACC's Child Development Department. The Evening Care program is designed to give the children who attend a more family-like experience. Because most of the Evening Care children have been in something structured all day, we offer a flexible approach to our schedule in the evenings. We provide a family-style nutritious snack and a variety of activities such as cooking, open-ended sensory and art activities, science experiences and board games. Tuition, ranging from $1-$10 per night per family, is charged on a sliding scale according to income.
Children Served and Hours of Operation
Evening Care serves children 2 years through 10 years of age. Depending on the number of children in attendance, children may be together in one classroom or divided into two groups according to their age. Most of the children who attend are coming from a full day of public school and after school care, or full-day child care. Childcare is provided Monday through Thursday from 5:30 p.m. to 9:30 p.m. Children attend only on the nights their parents are officially enrolled in ACC college credit classes. Most children attend 1 or 2 evenings a week for an average of 2 to 3 hours. Currently enrolled families have priority over new families, although, all parents (new and currently enrolled) must reenroll their child every semester.
Philosophy
As stated in the ACC CLS parent handbook, the overall guiding principle of the CLS is to respect each individual child's unique characteristics and abilities. Evening Care strives to create a relaxing family-like atmosphere where children can feel at home in the evenings and participate in activities they might otherwise be doing at home. Activities such as help with homework, family-style snack, cooking activities, board games and sensory experiences are planned to imitate the home environment
Goals
To provide a family like atmosphere for children who usually attend school and after school care or full-day child care before coming to Evening Care
To provide an environment where children feel free to explore through play both outdoors and indoors
To support parents who are striving to obtain a higher education by providing high quality, safe and reliable childcare
Curriculum
The program is flexible with both indoor and outdoor activities offering a variety of center-based hands-on learning opportunities
Activities are included to imitate the family setting such as homework help, board games, cooking and family-style snack
Children get the opportunity to practice and learn new self-help skills such as hand washing or preparing food
The schedule is flexible to allow time for outdoor activities, free choice indoors, snack and clean-up
Evening Care is Unique
Children arrive and depart at various times of the evening depending on their parents class schedule
Children usually attend 1 or 2 nights a week
Parent may choose to attend 16, 12 or 8-week courses that begin and end at various times during fall and spring semesters or 5 ½ or 11-week coursed during summer semester
The ages of children range from 2 years through 10 years of age
There are several families with multiple siblings
Link to waiting list information.
Summary
Austin Community College offers its evening students an exceptional opportunity to attend classes and have reliable and affordable childcare. Because of flexible class scheduling, a different group of children is served each night. Our program is unique, and we feel we may meet some of the curriculum standards in different ways than a traditional full day, half day, or after-school program would. Although our uniqueness doesn't allow us to be accredited, like the ACC CLS Day Program, we strive to meet all NAEYC criteria.