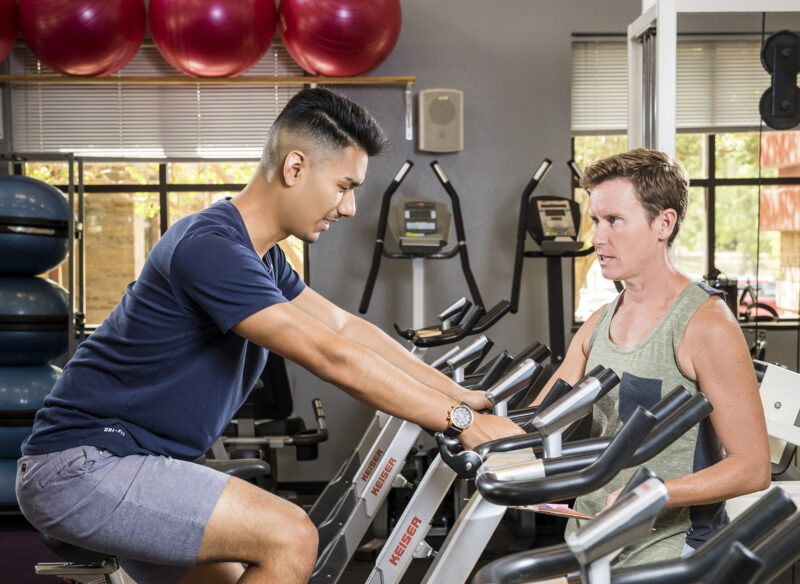 Why Exercise Science?
The area of aerobic exercise has always been a topic of great interest. Research has demonstrated that a lack of consistent physical activity is a primary risk factor for the development of cardiovascular disease as well as a detriment to overall quality of life and weight control. Recently, the subject of physical activity and its effects has intensified.
In July of 1995, the Surgeon General released a report outlining the benefits of aerobic exercise and stressing the importance of all Americans to incorporating exercise as a part of their daily routine. The report also mentioned the importance of strength (i.e. weight) training as an integral part to enhanced quality of life and the delay of osteoporosis. Due to this surge of interest in exercise spearheaded by the nation's leading health authority, the need for trained professionals should be in high demand.
Today, the job market boasts many "exercise specialists" or "personal trainers." The fact is that the majority of these persons lack either the educational background to support such titles, the interpersonal skills to relate effectively to the client, and the practical skills to design safe and effective training sessions.  The Exercise Science Program is targeted to supply all of these components to students for entry-level positions which deal directly with the apparently healthy client. Link to the specific Program Outcomes.
Although topics discussing exercise for the elderly, children, cardiac rehab patient, pregnant client, and other special populations is incorporated into many courses, the student is not trained to deal directly with such special populations without guidance from a healthcare professional. Therefore, the majority of jobs for graduates of the program lie in the fitness/club facility and the corporate/wellness site. These positions would include an aerobic instructor, a weight training instructor, personal trainer, fitness assessment technician, and fitness leader. Positions also exist in less traditional areas such as sports therapy clinics, cruise ships, fitness camps, and some hospital wellness programs.
Learn more about how to get started or how to apply.