Meet Bill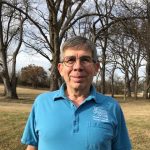 Bill, give a little background history of yourself.
I retired from the Austin Fire Department in June 2012 after a 30-year career.  I am also retired from the Air Force Reserve after a 22-year career in Air Force Fire Protection.  I was 62 years old when I began the Personal Fitness Trainer degree program in the Fall 2015 semester.
What made you decide to pursue this area of study (i.e. Exercise Science)?
I wanted to continue helping people.  I heard stories from friends about middle aged people who had young trainers and were either injured or became discouraged because the trainer did not understand the aging body. I thought that I because I was familiar with the aches and pains of growing old, I would be able to empathize with those clients and help them with their exercise programs.
What made you to decide to pursue this interest in the Exercise Science program at ACC?
 I was retired for 3 years and bored.  I had Post 9-11 GI Bill benefits remaining and considered returning to school.  A friend of mine was an academic advisor at ACC.  I met with her and we reviewed the degree programs ACC offered.  I've been physically active throughout my life in many sports including cycling, martial arts, weight training, swimming, and others.  It seemed like a natural fit and was the degree program which appealed most to me.
What was the most challenging/difficult part of the program?
Anatomy and Physiology.  They required total commitment, lots of studying and many hours in the open labs practicing with the models and utilizing the tutors.  The tutors were very good and very helpful.
What was the best/most beneficial part of the program?
Again, I'll say Anatomy and Physiology.  Understanding anatomy is the foundation of the program. Doing well in these two courses was very helpful in all the other courses in the program, especially in the Exercise Science course.
Are you currently employed as a Personal Fitness Trainer?  If so, at what capacity?  If not, why not?
I was hired at my internship site, the Northwest Family YMCA, as a Personal Fitness Trainer.
If you had a single piece of advice for someone interested in being a Personal Fitness Trainer, what would it be?
Commit totally to the program, study as much as possible, and don't miss any classes. Participate in class and build relationships with the professors.  They are all great people.
Back to Meet a Graduate Page